"Tune" is a game that teaches game design. Find the perfect combination of jump strength, rotation, or gravity to accomplish each goal. Get under the hood and understand what goes into tuning game mechanics. Experience the satisfaction of tuning a mechanic perfectly. How well can you tune Tune?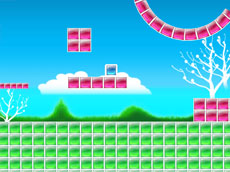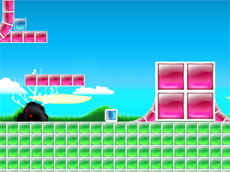 Download the latest build here!

Play the latest web version here.

______________________________________________________
Evolution of an Idea
"Tune" began life as an assignment for my Gameplay and Game Design students at the Art Institute of Phoenix. One of the goals of my class is to give students a taste of game design in a very real, practical way. This means, among other things, taking a series of abstract numbers and balancing them against each other – tuning them – to achieve a specific, fun feel. In lieu of having students actually program a game (the major at AIPX is "Game Art and Design" but the focus is primarily on art) I created a simple physics-based jumping mechanic and exposed a few of the most relevant parameters as simple text entry fields. I then told the students simply "here is a mechanic, make it fun" and turned them loose.
http://www.steveswink.com/Jumper/Info_Jumper_03.htm
The result was surprisingly fun. The assignment quickly became a favorite; I created more mechanics to tune and expanded on the idea. As I did, it occurred to me that I could provide the same kind of structure and experience – me standing behind the student saying "here is a mechanic, make it fun" – within the game system. This was the genesis of Tune.
Backtracking slightly, one crucial aspect of creating game mechanics is the importance of context. It's relatively easy to create a mechanic that is interesting and appealing, or at least a mechanic that seems promising. The problem is creating a context against which that appealing mechanic can function, thus making a game of it. Oftentimes, you'll come up with what feels like a good mechanic, but when you provide a specific goal it simply isn't fun, or you don't have the degree of control over the mechanic you thought you did. Fiddling around is different than a focused goal, even if that goal is simple exploration. Examples of concrete goals against which to test a mechanic include collecting certain items, getting to a specific place, or destroying enemies. This is what the goal structure of Tune is all about: providing meaning against which each tuning of the mechanic can be judged, and illustrating the role that context plays in mechanic tuning.
So, Tune is a game about game design, about tuning game mechanics. Besides controlling the game in the typical way, the player must constantly change the balance of parameters against one another. Depending on the current goal, different tunings of the mechanic will be more or less effective. The successful player will be constantly experimenting with the various parameters, looking for the tuning that best equips them to complete the current goal. Each goal brings a new challenge, and may require a different tuning.
In the final version of the game, there will be three separate mechanics to tune, each with multiple progressions. In this way, I'm taking inspiration from Braid; I want to explore the theme of tuning game mechanics as a game mechanic in as many ways as possible.

6 Comments